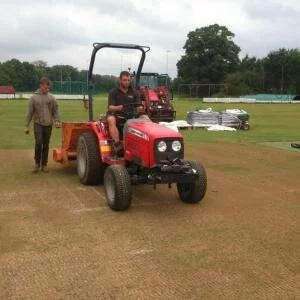 We have been extremely lucky with weather and we have had a great start. There is a considerable amount of thatch in some squares this year, but our Imant Scarifier has been doing a terrific job of cleaning out the wickets.
All our loams, kaloam, surrey loams, mendip and others are all a really good quality this season, which helps to achieve an accurate spread.
Our new 1210 Rink Spreader is working really well and has sped up the operation.
The 2016 PDS Cricket mix is Gromax treated and has an STRI mean rating of 7.31. Cultivars : 30% Escapade, 30% Chardin and 40% Eurosport The combination of these highly rated cultivars gives excellent performance and rapid establishment. It provides outstanding shoot density and resistance to wear under close mown conditions. You can purchase this from our online shop or ring the office on 01386 462425, where Karen will be happy to assist you with your requirements.
We will start our winter programme when the squares are established. This will include treatments for worm casts, disease control, leather jacket control, fertiliser applications and aeration.