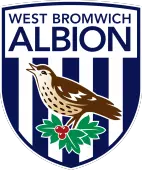 West Bromwich Albion Football Club, also known as West Brom, The Baggies, The Throstles, Albion or WBA, is an English professional football club based in West Bromwich in the West Midlands.
West Bromwich Albion was formed in 1878 and has played at its current home ground, the Hawthorns, since 1900.
The Hawthorns was named after the Hawthorn bushes that covered the area that were cleared to make way for it. The Hawthorn's current capacity is just over 26,000.
We're proud to have provided them with the following services, among others:

Deep aeration
Fertilisation
Fraise mowing
Land drainage
Overseeding
Pitch construction
Scarification
Spraying application
Synthetic turf
Top dressing



Call Us:
01386 462 425
---
We can help with...
---

Seeding and Overseeding
---